Prof. Aji P Mathew, Stockholm University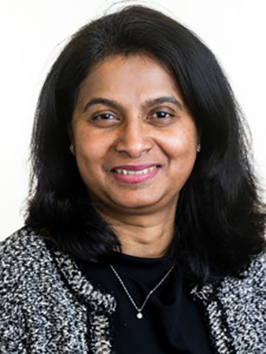 Prof. Aji Mathew joined Department of Materials and Environmental Chemistry (MMK), Stockholm University in 2015 after previous academic occupation in Luleå University of Technology (2007-2015), and was promoted to full professor in materials chemistry in 2017. She is also the co-organizer of Stockholm Material Hub.
Prof. Mathew has rich experience and fruitful achievements in biobased functional materials, especially nanocellulose materials for versatile applications, include:
a) Biobased materials for environmental remediation, such as fully biobased membranes/filters for water purification. Contributions include both fundamental understanding on the surface chemistry & interaction mechanism and practical solutions as patented products.
b) Biobased materials for medical applications, such as scaffolds/membranes/hydrogels for potential applications for wound care, cartilage regeneration, controlled release of drugs, antifouling and antibacterial uses, etc. Recent progress enables the production of porous scaffolds via 3D printing of biobased inks.
c) Synthesis and processing methods for sustainable materials, including both fundamental scientific study on nanocellulose & nanochitin materials and corresponding package of solutions for sustainable materials in the life cycle of synthesis, utilization, recycling and circularity.
Prof. Mathew has nearly 200 peer-reviewed publications with over 11,000 citations. She has also received several large funding, supported by European Union "Horizon 2020" research and innovation program, Wallenberg Wood Science Center, Swedish Research Council (VR), Swedish Innovation Agency (Vinnova), Mistra, etc.
Prof. Mathew also collaborates with many industrial partners both locally in Sweden and around Europe (Germany, Norway, Spain and Slovenia) on biobased functional materials. She also holds several nanocellulose-related patents in Sweden, US, UK and Canada.
For more detailed information, please visit Prof. Mathew's personal webpage in Stockholm University:
https://www.su.se/english/profiles/maji-1.227005
Contact Information
Address: C432, Svante Arrhenius väg 16C, 10691 Stockholm, Sweden
Phone: +46 8191256; +46 721474367
E-mail: [email protected]